I test the sixth generation of Jumper EZpad 6 touch pad . The previous generation was already worthy of study before choosing among all the tablets available on the market. The 6th generation intends to do even better by deploying in particular two arguments that we will evoke in this test.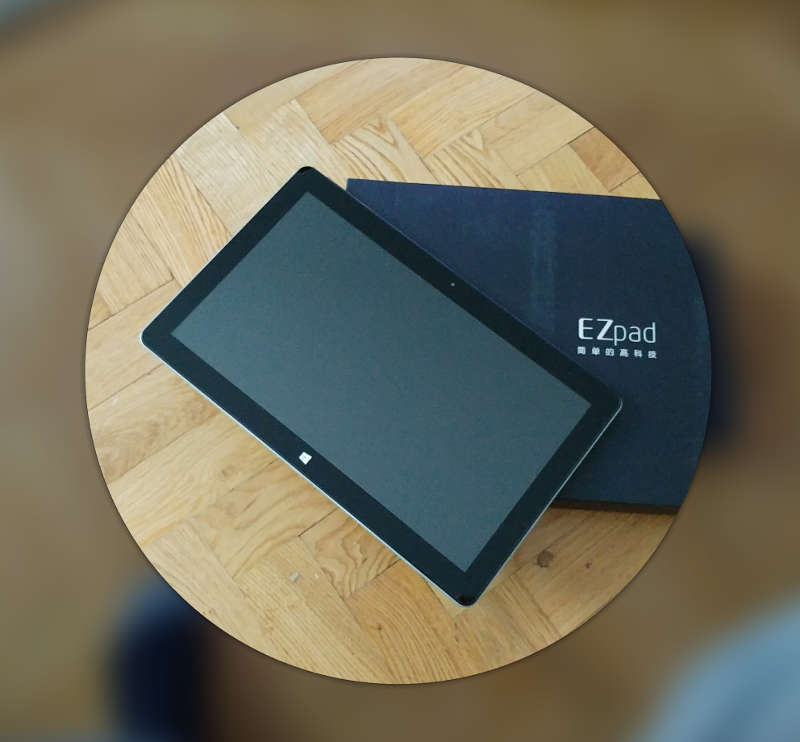 It is thanks to GearBest .com that I can now offer my opinion on the Jumper EZpad 6 tablet . I also invite you to read my study on GearBest to get a better idea of ​​why this is the site I use when I want to buy technology products. You will see, you will not be disappointed.
For now, I will try to detail my opinion on the tablet Jumper EZpad 6 in order to highlight its advantages, but also its defects if it has.
Testing the Jumper EZpad 6 Tablet
Unpacking and video testing
I propose you to look at a synthesis of my test in video in order to give you a first idea. You will see it running as live and a picture worth a thousand words, you can realize what it can do you can not do. Nevertheless, I also invite you to read all of my test below in order to take some more technical data that are difficult to highlight in video.
Test Tablet Jumper EZpad 6
Design and finishing – A beautiful classic tablet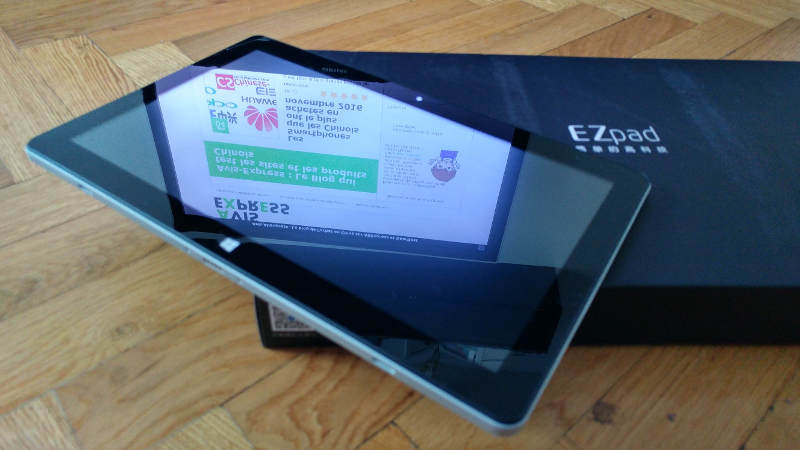 The design is quite classic compared to the tablet what is found on this market. A black screen with borders that allow a good grip without touching the touch part of the screen. A thickness of 1 centimeters quite reasonable but could have been a little finer. A hull at the back with a metallic effect but remains plastic. And solid metal shelf borders to house the different entrances and exits.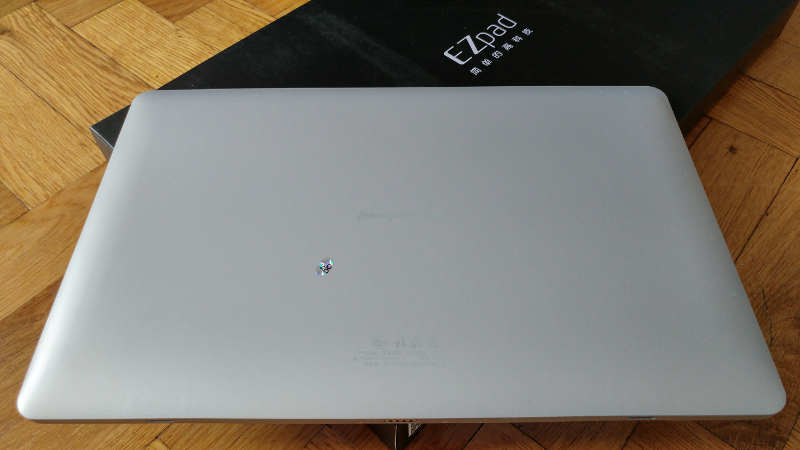 The overall finish is therefore pretty good, we will only regret a slight play at the level of the screen that is felt by pressing the front and back of the tablet together. Watch the video to find out more. This is quite anecdotal and it is really for the pleasure of criticizing that I am telling you this.
It proves a bit heavy with these 700 g. Nevertheless, it must be balanced that this is a large shelf. It is far from unpleasant to daily use.
Testing the power of the Jumper EZpad 6 tablet
This is one of the great features that has been updated by EZPad. Indeed, the processor has mounted version between the 5th generation and the 6th. You now find in the Jumper EZpad 6 tablet a Z8350 processor (List of tablets using this processor) . This is an Intel Cherry trail processor. This is a very well-known range in the world of tablets since I would say that most of the tablets currently available in China use this Intel processor. There are not only Chinese tablets for that matter. This processor is so versatile and energy-efficient that it makes sense in your tablets and in some PCs.
The z8350 is therefore an evolution of the z8300 . It brings an extra power of about a hundred megahertz when the need arises. It is therefore not a revolution, but an evolution see an overclocking. To the question of whether it is absolutely necessary to have the latest generation processor, I would say no. It is a plus, it is an additional comfort, and this only applies if the price remains reasonable. This is the case for the Jumper EZpad 6 tablet, so this is all good.
The Jumper EZpad 6 tablet will be able to run perfectly most of the Windows applications you use, and simple 3D games. Obviously, do not expect to run complex 3D games that you will find on console, where games requiring very high frame rate. Nevertheless I was very surprised to be able to play Asphalt Extrem with a fluidity a little fair but honorable.
What about the power of the z8350 leaned against Windows?
This is a sufficient processor to run Windows. But it can not be said that he excels. I prefer this processor in its use of Android. It is indeed more powerful on Android which consumes less resources than under Windows. Nevertheless, you should not be disappointed if your expectations are those of normal use.
Another big advantage, the screen size is up
Large 11.6-inch screen
Good Full HD
Good reading comfort
And yes, compared to the 5th generation, the Jumper EZpad 6 tablet now offers an 11.6-inch screen . This is one more inch compared to his older sister. This therefore means a comfort of use normally superior.
This extra thumb is gained in width. Indeed, this additional size is not related to the increase in the length and the width of the tablet. Only its length has been increased . (29.00 x 18.00 x 1.00 cm.) This gives a little feeling to have a screen very suitable for playing movies. I would say it's a 16/10 screen. I still like the good news the choice to increase the size of a screen. Personally, I feel much more comfortable on large screens. As part of a tablet, I would say that 11.6 inches and a size quite acceptable, but that does not necessarily go further.
It obviously adds a bit to the tablet, but it's very reasonable. As to whether this change in format is useful, I would say that if you are used to reading your pages vertically, you will feel much better comfort compared to using the usual tablets. Indeed, since the height is increased, you can read more without having to scroll (vertical scrolling).
If you're used to using your tablet in landscape mode, then that will not change you much. The tablet will lose a little bit in height at this level, and will gain in width. But to navigate on the Internet, it is rather height that is important so I advise you to use it in portrait mode.
The Jumper EZpad 6 is absolutely impeccable in film playback . Not only does its processor handle them perfectly, but especially its screen is totally adapted to modern cinema. Indeed, as much by its resolution as by its dimensions, the film will be projected in full screen without black bands most of the time. It is for me an appreciable comfort.
It is therefore a faultless side of the screen aside from this format which is not really adapted to landscape mode (except for movies).
A tablet under Windows ten, but where is android?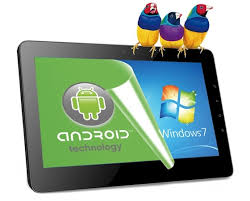 It's very important for me to actually have a tablet under Windows 10.1 Windows remains and remains a mandatory operating system for anyone who wants to work. It's also an operating system with a lot of software that I know very well. I enjoy finding a familiar environment. The version of Windows 10 installed on the Jumper EZpad 6 tablet is perfectly managed. Obviously, it is not flashing of speed, Windows being rather made to turn with more powerful processors oriented PC. But this tablet still does very well and will be sufficient in most cases. This is an English version of Windows that is preinstalled. In theory, it is possible to install the French language. Nevertheless, I have not yet arrived. It is the case besides on all my English tablets.
But where is android? This is probably the biggest flaw in this tablet. I would really like it to be dual boot. Indeed, if Windows is perfect in working environment, Android is perfect in environment of entertainment. And it's always nice to be able to choose between the two operating systems. Indeed, they do not have the same vocation. Moreover, Android is less demanding in terms of performance, and allows to run 3D video games a little more elaborate, and accelerates the access to the applications.
So I enjoy having Windows 10 on the Jumper EZpad 6 tablet, but I would have really liked that they are dual boot. By the way, I invite you to read my test of the tablet chuwi hi10 plus which is dual boot .
The other technical characteristics of the tablet
You will find 4 GB of RAM inside the Jumper EZpad 6 tablet. This is indeed a sum necessary to properly run Windows and the software you want to use.
In terms of memory you will find 64 GB in terms of capacity. This is enough to run Windows properly, to allow updates, to install some of the software you will need, and possibly store some movies and some photos. Nevertheless, I advise you to use the microSD port which will allow you to extend the memory with several hundred additional GB.
Graphically, you will find an Intel HD graphic 400 GPU chip. It is a very classical chip that does not shine by its power. It is able to lighten the power demanded to the CPU for movies, and games.
At the camera level, the Jumper EZpad 6 is equipped with a 2-megapixel front camera . This is the minimum service. For tablets of this price range, there is rarely better. There is nothing special to expect from the camera. You will not use it to take pictures, you will use them and only with Skype where the software allows you to make videoconferences.
Connectivity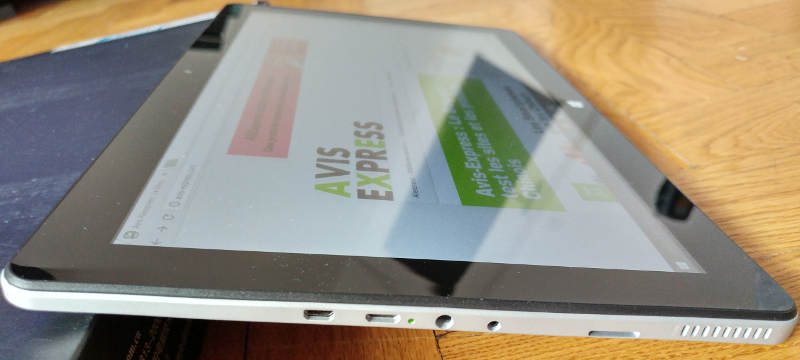 A standard electrical socket (Chinese for my version)
A micro USB port
A jack for your headphones (Have a look at the Xiaomi Mi capsule Piston Air capsule )
One Micro HMDI port
One Micro SD port
In terms of network connectivity there are:
The Wifi B / G / N
The bluetooth
Nothing to report special. That is the minimum subsistence and that is enough.
Obviously your tablet can be connected to systems like Chromecast or any other image and sound broadcasting device.
Battery Test
With its 7000mAh , the battery of the tablet Jumper EZpad 6 is cut to hold 7 hours in normal use (except video games).
It is rather a good performance given its price. This is due in particular to the frugal consumption of the Z8350.
Personally I use a lot Youtube and video in general. And it holds really well!
Sound Testing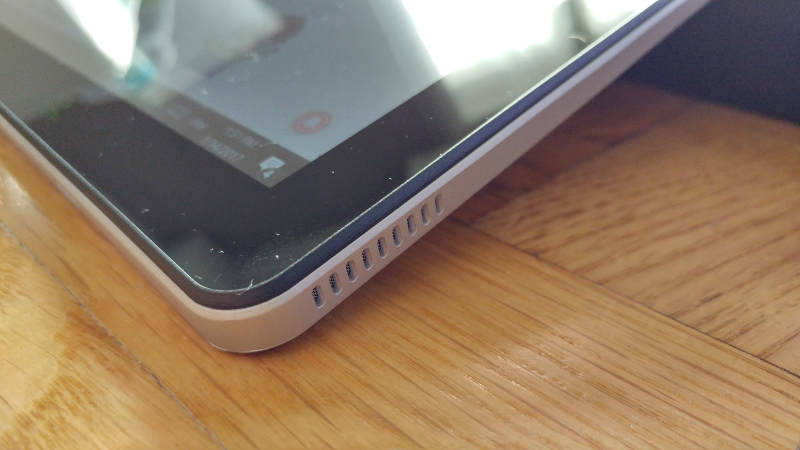 The EZpad 6 Jumper works in stereo! Even if it is not obvious in the rendering, it is still a nice effort. You will have two speakers on each side of the tablet to diffuse the sound. If you are used to holding your tablet from the bottom, your hands will be able to reflect the sound towards your ears which is rather pleasant.
The speakers are not excellent but sufficient. The sound is honorable. They saturate fast enough if you push the volume but it is a very common fault on such small speakers. Neither good nor bad, they will do the trick in most cases.
My opinion about the Jumper EZpad 6 tablet
Advantages
Large 11.6-inch screen
Latest generation of Intel CPUs Cherry trail: Z8350
Windows 7
Prices ($ 180)
To improve
No dual boot!
Keyboard to buy separately (as often)
Given its price, it really is a good tablet and a good compromise compared to what is on the market. It has the latest technologies found in tablets in general much more expensive . And of course I'm talking about the z8350 processor. This is for me a good purchase but I advise you to take the keyboard if you decide to buy it. It's so much nicer to be able to write with a keyboard than to use the tablet screen. That remains an advice, but not an obligation.
I see a lot of demand for comparison between the EZpad 6 and the Chuwi Hi12 because of their screen size. But these are not at all the same prices, the Hi12 is much more expensive. The Ezpad 6 can be compared to the Chuwi Hi10 Plus .
A little cheaper, the Jumper EZPad 6 M6 has a 10.8-inch screen