Many potential buyers have certain concerns about delivery from Aliexpress and from China in general. This is completely understandable as there are several thousands of miles between you and your package with numerous transit points and border the package has to cross.
However, despite this seemingly large obstacle, buying goods from China is perfectly safe and already practiced by millions of people all around the world.
Most worries result from lack of knowledge and prejudices. This lack of understanding is comparable to the early days of e-commerce in America when many users faced uncertainty about payment, delivery, and refund policies.
Free or Paid Shipping on Aliexpress?
Today, free delivery has become the norm on Aliexpress.
You can easily filter products with free shipping by simply ticking the free shipping box below the search.
Delivery costs might be reported on the global price but i don't think so.
The only time you are going to pay additional delivery fees is when you decide to use a private carrier such as DHL, DPD, or FedEx. A great news is that many Chinese sellers on Aliexpress offer a very competitive prices for these expedited options.
If you need advices about payement on AliExpress read this article.
How can Chinese sellers offer free worldwide shipping on Aliexpress and still make money?
There are several possible options:
Sellers get larger discounts the more parcels they send to foreign countries.
They have an arrangement with local post office which results in a low prices.
Delivery fees are already included in the selling price.
Should I have my package delivered by China Post or private carrier?
Delivery by private carriers from China
Companies like DHL and FedEx offer a very high quality of service and extremely fast delivery speeds. This makes them the perfect alternative for high-value packages.
One big problem with delivery by private carriers like DHL is that there is no way to avoid paying customs duty.
My opinion
Customs duty and VAT can make up a large portion of a total price you will pay for your product.
To learn how to avoid paying customs duty or VAT, read this article
DHL provides the fastest delivery to basically all countries in the world.
Delivery by China Post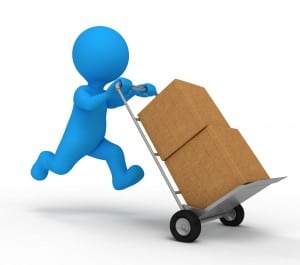 Delivery by China Post is the option I prefer to use myself. In the vast majority of cases, packages go through customs without any issues. Even if you happen to be controlled.
Out of 70 parcels, only one of them was not delivered. That is a pretty good score, considering that it is impossible to know whether the fault was with China Post or not.
All postal services in the world sometimes get their packages lost or damaged and given the extremely large volumes they work with, it is quite unavoidable.
How are products from Aliexpress packaged?
There are two common types of packaging:
Small, low-value products are usually packaged in bubble envelopes that provide a sufficient level of protection. The item itself is wrapped in protective plastic to keep it from moving inside the envelope. It may sound like it is not much, but it actually works very well! I have never received a broken item even though the outer envelope can get a tear or two because of rough treatment from shipping companies.
More valuable items are usually packed with much greater care to ensure that absolutely no damage happens to your items. The original box is placed inside a larger outer box and protective material is used to prevent loose movement.
Common terms used by China Post
'Collection' = package is delivered to the carrier = (EMS, China Post, DHL, FEDEX, etc.)
'Opening' = various customs operations and security procedures (usually before embarking on cargo aircraft)
Dropshipping and delivery time to the USA from China
The shipping time generally ranges from two weeks to six weeks.
You have usually 45 days of buyer protection time to declare that your package was not yet delivered. This time varies from seller to seller and you need to take into account many different factors that may come to play such as Chinese holidays, the number of items the seller has in his stock, and others.
Delivery usually takes between 20 to 25 days which could be seen as the negative side of free shipping. If this seems too long for you then you can always pay for express DHL shipping. But you will have to pay around 30 € for it.
Advice on Aliexpress delivery
There is a clear and simple method how to find a good seller for your order.
To find out more, read this article on how to find a reliable seller on Aliexpress and avoid scammers.
My opinion on delivery options with Aliexpress
I recommend you choose the Chinese carrier for most of your packages. It is rare that this option will not be available.
If the price of your order is large, already wondering if there is not a price approaching in France!