Meizu is a brand that stands out in many areas of IT and technology life. The Meizu HD50 has a number of advantages to offer in an already crowded market.
You are on Avis-Express, the blog that tests Chinese products . And inevitably, you wonder if this product purely from the Chinese design and lived up to your expectations?
I chose to test the Meizu HD50 headset because of its very popularity on the GearBest site. A site in which I have total confidence, is the Chinese site that I use to buy the most expensive products.
Is this helmet worth its price of $55? (At the bottom of this article I have a coupon for you) Is the sound at the height, is it nice to wear and soundproof? It's gone for the test.
Meizu HD50 Headset Test
Technical specifications of the Meizu HD 50 helmet
Frequencies: 20Hz to 20Khz
32 Ohms
Weight: 228 grams
Microphone integrated in jack cable
A well-furnished package
A storage box
A helmet … You never know
A mini jack cable with Android sound volume buttons
A jack plug (Because mini jack aspires to become big)
A double jack plug for planes … There they go far anyway!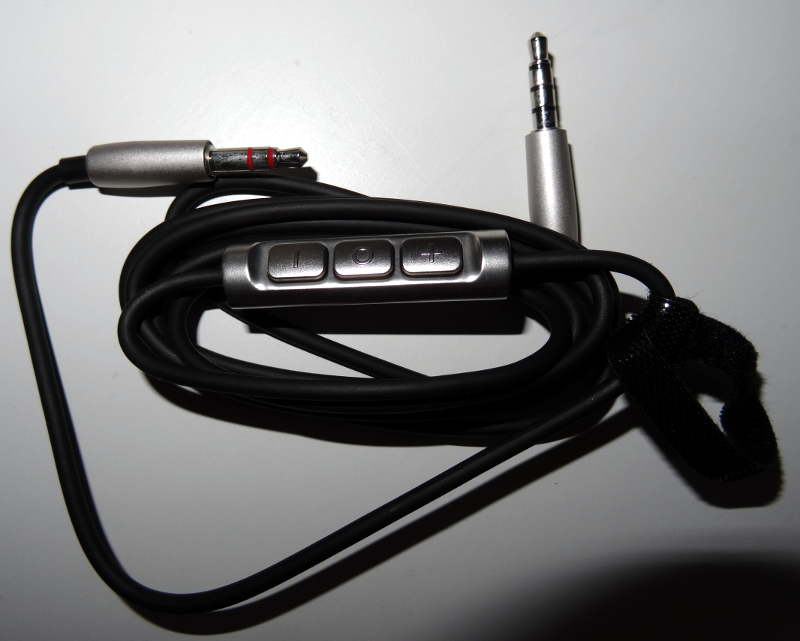 A really beautiful design
Successful design is an obligation in the field of headphones and earphones.
The design of the helmet is a real achievement in sobriety. It's also quite normal that I give you this opinion, my helmet version and gray and black. We have already seen more fun as color. But it is also available in white and red . Enough to put a little originality around your ears.
The design materials seem to be of very good quality . We feel very quickly that the metal is serious. It is not at all a helmet of bricks and pitcher, it is a helmet of a sword material, well assembled, and apparently quite solid. I did not go so far as to try to twist it, but you feel it and if you buy it, it's heavy.
And when I say it's heavy, I'm not talking about its general weight which is very light. This is a case what you will hardly feel on your head and on your ears. It is also a mixture between a quality and a defect. Indeed, like you, I do not want to have on my head a pretty brick that diffuses sound.
I need my helmet to be my outfit on my head. On this side, the Meizu HD50 helmet displays the vital minimum. To have such a level of comfort, they have designed a helmet whose tightening around your head is light. This does not mean that your helmet will slip, it means it is really tight to the minimum. On the other hand, I must also know that my cranial perimeter is not very large. Hopefully this does not affect intelligence (it plays on spelling). You can also legitimately tell you that if your head turn is rather big compared to the average, this headset will offer you a very pleasant comfort.
The design and comfort of this helmet are a real success . It will make you forget, it will not heat your ears too much, but it is clearly not made for sports. If you do sport with it, it will slip inevitably.
Sound quality
This is the main purpose of a headset test, namely whether the music, and the videos you listen to will be pleasantly broadcast in the headphones. The question is also whether there will be too much distortion, and whether the music you are listening to will be in line with what you expect. Indeed, there is nothing more unpleasant than listening to a music with a new headset to notice negatively different. A helmet has the power to reveal or not beautiful things.
You will be glad to have it buy
The Meizu HD50 offers an excellent sound quality. Of course, we are not on the same level as the market leaders, but it offers almost perfect hearing comfort compared to normal expectations. There is nothing in this headphone that could disturb your listening. At no time will you tell yourself that the sound is distorted, to which you would have preferred to hear something different. And this is for me what is most important. Respect the work of the artist, is broadcast a sound pleasant to the ear.
The only fault that can be noted on sound quality is the length of the bass. We would have liked them to be a bit more powerful . BOOM. Nevertheless, a certain length benefits the music that uses the bass as a background instrument integrating itself with the landscape of the song or the film. And yes, the helmet Meizu HD 50 also serves to listen to movies. And it's enjoyable to be able to push the sound when watching a solo film with family around.
Does the helmet saturate?
Not at all. In between quotation marks obviously. Its threshold of saturation is so high that to reach it one would have to risk his ears. Avoid getting to the. Otherwise you will not hear your baby crying at night. Message to the young Dad who pretend to sleep for Mom to get up.
My opinion on the helmet Meizu HD50
Yes it is the best value for money of the moment on the market of the Chinese headphones . I really want you to hear it before you buy it. The world of helmets is unfair. But if you do not trust me, rely on sales volume.
I am very happy to use this helmet on a daily basis. Indeed, it is an ideal complement for a Bluetooth headset. The Bluetooth it has the disadvantage of having to be recharged, and not being very assiduous on this point, I very much like having a wired headset at hand, especially at work.
It is a very beautiful helmet, very sober in its design, made with beautiful materials, and an impeccable sound that restore music well as I have in mind. No false note for this headphone and just a recommendation to make the basses a bit more impactful for the next version of the helmet.
I think it will be hard for you to find a lower price than GearBest offers. Nevertheless, for all intents and purposes you can try. On the other hand, in terms of reliability, and after-sales service, I still recommend this site which is excellent.Learn more about GearBest by reading my review .
Buy the Meizu HD50 helmet on GearBest – Coupon: MZhead16
Do not forget to share my article, I give you an E-flat in exchange.
Les meilleurs boutiques en ligne pour acheter :
GearBest
AliExpress
Amazon
BangGood
TomTop
LightInTheBox