The Zuk Z2 is one of those phones that deserve to be in your list before purchase. So you do very well to come and read my test, because it could make you change your mind.
If you are on my site, you are probably looking for a smartphone around $200 , powerful, balanced, and that will satisfy and most of your desires.
This is exactly why I wanted to test the ZK Z2. So we will check if his reputation at least excellent and live up to my expectations.
Specs of the Zuk Z2
Dimensions : 68.88 x 141.65 x 8.45 mm
Weight : 149 g
SoC : Qualcomm Snapdragon 820 MSM8996
Processor : 2x 2.15 GHz Kryo, 2x 1.6 GHz Kryo, Number of cores : 4
Graphics Processor : Qualcomm Adreno 530, 624 MHz
RAM : 3 GB, 4 GB, 1866 MHz
Built-in memory : 32 GB, 64 GB
Display : 5 in, IPS, 1080 x 1920 pixels, 24 bit
Battery : 3500 mAh, lithium polymer (Li-Pol)
Operating System : Android 6.0.1 Marshmallow
Camera : 4160 x 3120 pixels, 3840 x 2160 pixels, 30 fps
SIM card : Nano-SIM
Wi-Fi Hotspot, Wi-Fi Direct, Wi-Fi, Wi-Fi
USB : 2.0, USB Type-C
Bluetooth : 4.1
Location / Navigation : GPS, A-GPS, GLONASS, BeiDou, Galileo
Lenovo Zuk Z2 – Design
The first thing that strikes when you open for the first time the box containing the Zuk Z2 is a slightly retro angular design that is reminiscent of the iPhone 4. At a time when most of the Smartphones choose the roundness as a weapon of seduction, Lenovo makes the opposite bet by creating a very angular smartphone, and with slight bevels on the slice to soften the angles.
The result and a smartphone rather handsome , pleasant enough to hold in hand, and which stands out significantly from the competition. I therefore validate this design which is finally quite differentiating and pleasant to look at.
We can regret a slight lack of madness that would have allowed him to stand out more. With a thickness of 8.5 mm , it is a smartphone in the average but that would have gained credibility to pass under the bar of 8 mm. These 145 g are reasonable considerably considering the battery.
On the lower slice you will find the now classic USB C port , the speaker, and much more original a headphone jack.
Very classic on Chinese smartphones, the ignition buttons and sound volume are on the right slice. For a right-hander, it is very easy to access.
The fingerprint sensor and when it has located at the front of the smartphone on a multifunctional digital button. He walks absolutely impeccably . Exit from sleep mode by simple finger application and fast.
The ceramic slice integrally covering the thickness of the smartphone, we can imagine that it is a solid phone. There is in fact less risk in case of fall the screen is in contact with the ground.
It is therefore a very positive feeling that emerges from the design of the smartphone Zuk Z2. But when is he on his screen?
Zuk Z2 smartphone screen test
So at the end number of competitors choose the 5.5 inches as standard unit, it is a 5 inch that offers us Lenovo . This is a screen size quite nice to use, and I totally validate it. Its main competitor in my eyes, the Xiaomi MI5, uses a slightly larger slab of 5.1 inches.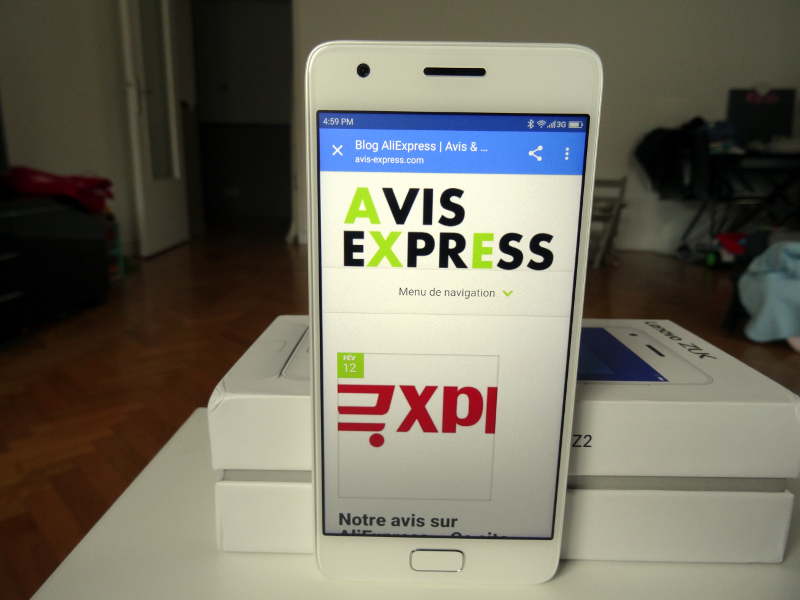 With Full HD resolution you will get absolutely excellent picture quality. It is difficult to criticize the Zuk Z2. The screen is bright, bright colors, the overall compromise is very pleasant to look at.
Zuk Z2 – the power to resell
With its snapdragon 820 , which probably did not go unnoticed, the Zuk Z2 and a very powerful smartphone. Indeed, it will be able to turn absolutely everything you desire. Even though it was released a year ago, it remains a reference. There are only two more powerful processors, the Snapdragon 821, and the snap dragon 835 that just came out and is on the Galaxy S8, and on the Xiaomi MI6.
Benchmark of the Zuk Z2
The interest of benchmark and to exploit to the maximum the power of the smartphone to emerge an order of idea in order to compare them to other telephone.
With a score of 135,000 points on an Antutu, I can tell you that the Zuk Z2 is quite excellent. Indeed, the best smartphone scores in the same range are either lower or equivalent. The best smartphones as for them reach 180000. But again it is about smartphone that have just come out in April 2017.
My ritual and test the power of my smartphones on Xtreme asphalt. And I can tell you that it works extremely well, there is no image to jump, everything is fluid and perfect. At the same time, I was not expecting less of a Snapdragon 820, and an Adreno 530 for graphics.
So it's clearly a highlight of this phone, getting so much power for such a low price is a real invitation to purchase.
Does the Zuk Z2 correctly handle 4G?
As is often the case with Chinese mobile phones, the ZUk Z2 does not handle the 800mhz band . Is that bad ? no it does not matter. Indeed in some rural areas, this absence will be noticed. In a conurbation, it should not be too strong. The phone works very well with the other bands 2100 and 2600Mhz.
The Z2 also captures very well . I performed the test below in a shopping mall. The 4G went impeccably. I'm at Free, so anyway the 800mhz does not help me.
Android ZUI Overlay Test
I advise you to read this passage carefully because it is probably the most negative of the phone.
When I turn on the phone, the first thing I do is download the apps I need to run the test on Google Apps. I was very surprised to discover that applications stop downloading after a certain time and that it is impossible to restart the download .
Moreover, when you go to me your phone you will see charming little characters and icons appear, and you suspect that it is advertising . I do not like this at all, it's an unworthy intrusion into our privacy, and if it was not risky, I would advise you to change the ROM of the phone to put a less intrusive.
Apart from that, always with regard to the negative things, it is clear that the smartphone has been planned and thought for the Chinese, Indian or American market. The French translation is summary , it is ill-done, it is not complete. Nevertheless, if you have some notions of English, it will be very easy to find yourself.
Still on the subject of things to improve, access to the shortcut could have been a little more classic by dragging the top bar as is generally the case on most versions of Android. In the case of the Zuk Z2, you have to slide your finger down the phone to bring up the menus type WiFi Bluetooth flashlight …
So I turned to the update of the smartphone since it was possible in theory to do it, and indeed an update was available. However the smartphone to refuse to connect to the Lenovo server to download it .
So I started to understand that this smartphone is not at all made for the French public. I should have inquired before buying it.
It does not matter, to download the update there is a way. You must make the Chinese server believe that you are yourself in China. To do this you have to download a small application that creates a VPN . That is, a virtual private network that will simulate your presence in any country of the world. By choosing China as your country of residence, you will make the server believe that you live in China, and you will have access to the update. The problem is that the application and download is disconnected very very frequently. From there, it took me about 8h to download the 1.5GB update.
Except that during the installation of the update has not gone to the end. Result? The phone was out of service. It blocked on the home screen with ZUK written in blue.
So I search the Internet and find out how to install another ROM with QPST. I successfully installed the ROM ZUI Android 7 version Chinese (with English translation) Why install ZUI again? Because I wanted to test this version related to the ZUK! Why test the Zuk Z2 if you do not test its android overlay?
But this remains a disappointment in terms of stability. ZUI 2.5 has no ads that are displayed untimely. But it sometimes freezes. In short it is a disappointment on the whole line this OS.
Be careful, apart from freeze and small bugs, it is very good. But I expect infinitely better from my phone.
Testing the camera
Because I prefer to finish on a positive note, the Zuk Z2 camera is quite honorable. Relatively accurate with its 13 megapixel sensor are however in the best, it also proves quite good level color and brightness.
Nothing like a landscape photo to appreciate the quality of the green colors of nature, and the ambient brightness. The photos taken by the ZK Z2 can be completely printed, their quality enough to give a beautiful image on the paper. I would say that the level of quality is equivalent to that of Xiaomi MI5.
The night photo and the most difficult test. As a general rule it is on this test there that we can decide between two cameras. The sensor of Zuk Z2 and its operation are rather good. I was surprised to distinguish a picture quite bright compared to that I could take so far with other smartphone. This luminosity does not sacrifice accuracy or color. I am therefore satisfied with the photo at night especially that the price of this smartphone would rather invited to the idea that the photo sensor was sacrificed.
My opinion on the smartphone Zuk Z2
It is finally a very difficult mission to give an opinion on such a smartphone. It is obvious that with regard to its operating system I can not advise you. It is far too unstable, and too likely to bug so that you really feel at ease. You will be disappointed with this purchase. Nevertheless, if you have knowledge and skills in managing ROM on smartphone, it is likely actually for you because at this price it is difficult to find such an overall quality level.
The Zuk Z2 and a powerful smartphone, with a good camera, which captures well the 4G even if it does not handle 800 megahertz, it has 4 GB of RAM, good storage memory, it is fast and quite in the mood of time. It is well finished even if we would have liked a little more finesse, its battery and excellent. So I understand very well why it is also sold in the world, even if it is not intended for the French market at all.
My final opinion is that I advise you to spend a few euros more to buy you a Xiaomi MI5 that is absolutely flawless in all areas, you will have absolutely no regrets in taking this smartphone. It is the best value for money of the moment, and read my test to have the heart clear.
I advise you to turn to the Xiaomi Mi5 which is the best value for money power of the moment.
Les meilleurs boutiques en ligne pour acheter :
GearBest
AliExpress
Amazon
BangGood
TomTop
LightInTheBox