The ilife V7 is a cheap robot vacuum cleaner that made me hesitate a long time. I already knew very well the iLife series which is of good quality and sells very well on Chinese sites. These are in my opinion the best low cost robot vacuums available in china. But there is an enormous number of models in this series with fairly common distinctions and characteristics. The question then was to ask why take the V7 and not another? The iLife V7 is now being tested on Avis-Express.
If you are looking for a robot vacuum cleaner that aspires to simple but effective functionality then you have come across the right site as my function is to test Chinese products. These products are often cheap, is relatively efficient. From experience, I know that the Chinese master the robot vacuum cleaners very well. From there, it will be very interesting for you to think about buying a robot vacuum cleaner in China directly. I will also show you how to choose a robot vacuum cleaner.
Robot vacuum cleaners have grown considerably in recent years as well as the home automation market. If you do not know me yet, I am a specialist in testing Chinese products. We often underestimate these products that are ultimately derived from the technological knowledge developed in Europe and the United States. Indeed, once you have acquired the base, since everything is produced in China, the Chinese in all skill to be able to achieve good quality products. They will probably not be at the top of the innovation, but it will be more than enough for your needs.
I have feedback from buyers so happy to have trusted me that I made a specialty robot vacuum cleaners. It must be said that I am so convinced by these helpers that it is easy to talk about. I use mine every day (Yes I have several). As far as I'm concerned , I keep the iLife V7S and the Jisiwei i3 at home . And my 2 year old son is very happy to play with. They are operated with the remote control. And since it is he who most dirties the house, I'm hopeful that he is invested to clean it too! Yes, I am still at the stage where I have hope … Do not take my hopes away from me!
Test and Specifications of the Chuwi iLife V7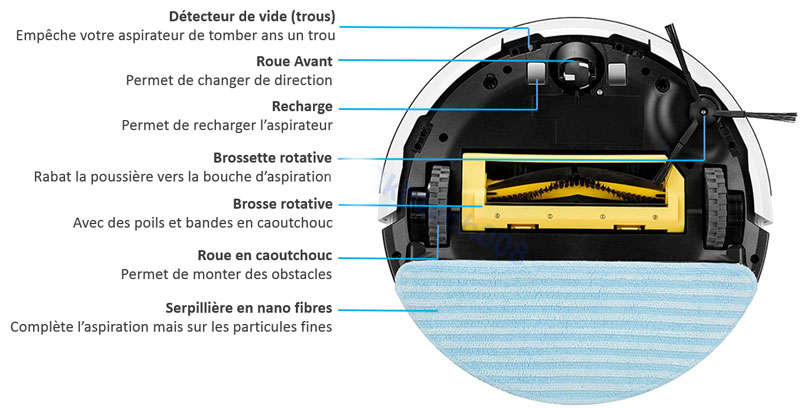 Technical specifications
General
Model: V7
Basic Information

Voltage (V): 24V
Power (W): 22W
Noise: 55db in super mute mode (that's fine) and 65 in normal mode
Suction power: 550Pa in super mute mode and 800Pa in normal mode
Time of use: About 2 hours of cleaning
A spare rotating brush
HEPA filter and spare
Capacity of the BAC (ML): 0.3L
Battery capacity: 2600 mAh (easily lasts 2 hours in action)

Dimension and Weight
Product Weight: 2.950 kg
Product Dimensions (W x H x H): 34.00 x 34.00 x 8.00 cm / 13.39 x 13.39 x 3.15 inches
Package Contents
: 1 x Robot, 1 x Remote Control, 1 x Side Brush, 2 x Filters, 2 x MOP, 1 x Charging Base, 1 x Dust Brush, 1 x English Manual,
Features of the V7
Sufficient suction power
The iLife V7 comes with two suction powers including one at 850Pa which allows it to do its job well. The silent mode of which I will speak to you afterwards is less powerful obviously.
This robot will allow you to aspire without problem dog hairs, ashes, crumbs, grains of sand, dust and all the light joyousness that drag in the house. It will suck very well the carpets and carpets! It will however be necessary to clean its brush after use.
On the other hand, it will have trouble with objects more than one centimeter high, objects that get stuck (cables and socks) and heavy objects like coins. It may hang on lightweight fabrics. At home he does not like the bath mat of the bathroom that looks more like a towel.
Its tray is equipped with a HEPA filter that avoids the dispersion of the finest dust. It is very easy to wash.
The super mute mode ( silent )
This is one of the main features of the iLife V7 chuwi. This mode reduces the noise of the vacuum cleaner to about 55db . Let me tell you that it is effective. You will be able to watch the TV when the vacuum cleaner works. Obviously this remains a nuisance sound, but it is quite usable occasionally without creating a war at home! A little noise to clean up some damage in your living room goes by.
The super mute function is activated with the remote control. It therefore immediately reduces the noise and the suction power increases from 850 Pa to 550 Pa. In understandable language this means that your vacuum cleaner will mostly concentrate on dust. It will be more difficult to lift the grains of sand and small pebbles. In short, it loses a bit in efficiency but it does not matter.
Cleaning in a circle
The circular cleaning function is really handy on this type of robot vacuum cleaner. It proposes to start from a given point, and to describe eccentric circles to clean the tasks as well as possible. It also makes it possible, of course, to concentrate the aspiration on a precise zone. This improves the speed of cleaning. However, on the ilife series, leave it unfortunately to his children. Indeed, it has only one meters of diameter dedicated to the function of circle. This makes it a little short to carry out the cleaning of a large room. It's a shame, we would have liked the circle to be eccentric until the robot vacuum cleaner against a wall. But apart from that, it's very effective.
The Microfibre Mop
Certainly the V7 does not wash the floor. But it is still delivered with a micro fiber cloth that you can fix to the base. You will also be able to moisten the mop for more efficiency.
It is used primarily to collect dust that a vacuum cleaner can not reach. And especially all micro dust that remain attached to the ground. It's really clever and effective. It is quite essential to my eyes.
Believe me, it will never come back clean after use!
The remote control
The remote control on the ilife series is almost the same for everyone. It's a remote control is very simple to use , with relatively few buttons but which ultimately concentrates most of the features. It will be very easy to use, and your children to use it too. And this is one of the big interests of this vacuum cleaner. As you can imagine, children are very interested in anyone who is a remote-controlled car and other machines of this kind.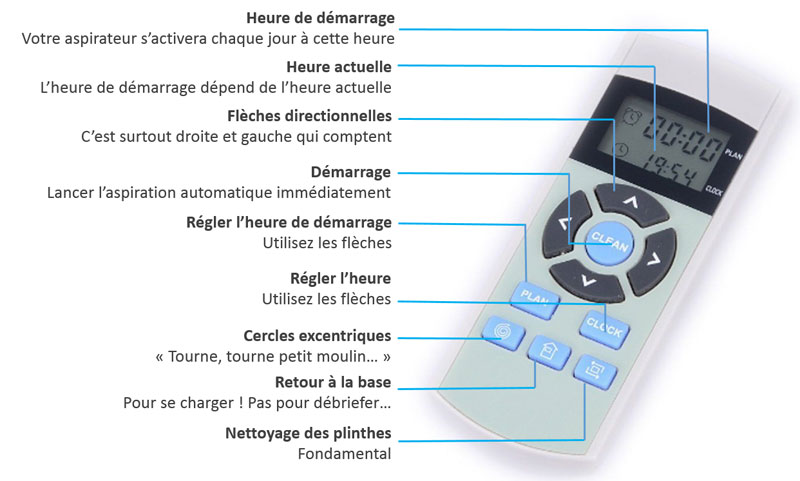 I imagine that you will enter in the hour a device very playful, that they will enjoy controlling. And the advantage of this device is that it does the housework. You have understood the trick. On the remote control, you will find buttons to give the order to the vacuum cleaner to start, to realize the eccentric Circles, to activate the super mute, to walk along the baseboards of your walls, to direct it to the right and To the left, and to return to its base one to load.
The bluetooth 4.3
This is the biggest innovation of the V7 with the super Mute. Your future robot vacuum is now controllable with your smartphone . What to say ? It's nice but there's nothing to hit your head on the floor either. The application is available on Android and iPhone.
Crossing capacity
The V7 is able to climb obstacles of 1.5cm. It is also capable of climbing slopes of 15 °. But your apartment is not sloping I hope.
It will however have trouble on certain points:
All the soft fabrics that will pass under it will block it
The cables wrap around the brushes and
He has trouble with the inclined chair feet (he will try to mount them)
The V7 has a good speed of movement. It is not slow like some Chinese vacuum cleaners.
Automatic loading
When he finishes his job, your V7 will go to recharge itself on its terminal. It works very well. However, it is necessary to provide a small clearance for him to make his maneuver. If he misses his shot, he will back off and try again. 95% of the time he succeeds directly.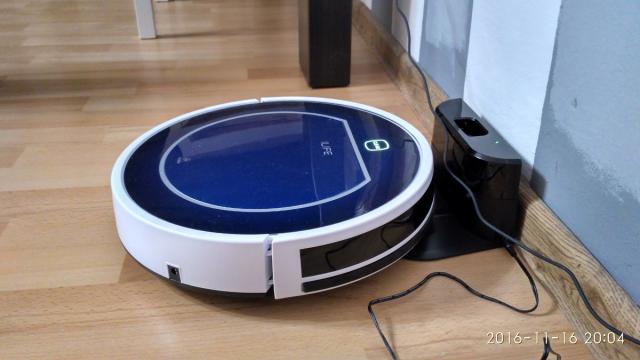 What Chinese sites to choose to buy a robot vacuum cleaner?
Sites like Aliexpress are now extremely numerous. It proposes more or less all the same and the same products. But that does not necessarily mean that you will have exactly the same price is the same quality of service. After testing a lot of them, I'm able to tell you that GearBest is by far my favorite . I think you already know it, it is a site that develops enormously. The quality of their service is there for many. It also offers extremely attractive prices, and in terms of robot vacuum it will be difficult to find better.
How to pay on the Chinese site?
Paying on a Chinese site is often a source of anxiety. But what you do not know is that it is your computer that is the source of real anxiety. Indeed it is on your computer that the hackers concentrate to obtain card numbers. Hackers have long since given up card numbers by hacking websites. It is much easier to use your personal computer. That being said, I advise you to pay by credit card. The banking system is so well done that you will be reimbursed every time your card is used by a hacker. All you have to do is go to the police and file a complaint with your bank. I've already experienced it … For $1300! Nothing to do with the Chinese ecommerce sites for that matter.
The delivery
Delivery from China takes time . It is a fact, it is impossible to bypass this step. Impossible ? This is not entirely the case. Sites like gearbest offer a shorter delivery time thanks to warehouses in Europe. On the other hand, it has a cost. And vacuum cleaners are not always available in warehouses. Nevertheless, you can absolutely order your robot vacuum cleaner from the bitch, and it should reach you without any problem. To order a robot vacuum cleaner from China, I advise you to go through the free carriers, please, pay customs fees. And believe me you do not want to pay its expenses so they are high.
My opinion on the iLife V7 robot vacuum cleaner
The first thing to say is that it is beautiful. It is even really beautiful. This is important because he will see you at home.
It is an absolutely excellent vacuum cleaner, and impeccable on all points. It will give you full satisfaction it is almost certain, and it will know how to clean your soil without any problem. So it's a very good buy if you decide to choose this one.
The iLife V7 will give you all the more satisfaction as it comes with a mode a little quieter. I know many buyers of this vacuum cleaner, and I've also seen a lot of testimonials and I'm sure you'll enjoy it.
Buy the iLife V7 on GearBest (Here's a discount coupon: ILIFEV7EU)
Ilife v7 on Amazon
One last question to ask: When considering buying the V7, should we consider the V7S?
The V7S is the version of the V7 that can wash the floor. Certainly it is not remote control with the smartphone and it does not have the super mute. But it has a large mop that will complement your cleaning device rather well.
Personally, it's the V7S that I use. I advise you to read my iLife V7S test . (I gave the V7 to a member of my family who is very happy)
Buy the Chuwi iLife V7S on Gearbest . Gearbest Discount Coupon : IlifeV7S This is the best offer I have found.
You can also check out the V7S offers from Aliexpress . (But it's more expensive)
Les meilleurs boutiques en ligne pour acheter :
GearBest
AliExpress
Amazon
BangGood
TomTop
LightInTheBox